Prefer to read today?  No problem!  Below you'll find the transcript from our video above.
Finished Garage
The original house is built in the mid-1940s and the house has been raised; the structure was raised and put up on pilings.  And then I know it was remodeled again somewhere along the way in the 1980s, and a big remodel was done in 2004. These folks bought it; I think they bought it in 2008, and we just did a major remodel for them because he's getting ready to retire. 
One of the things I talked to the client about was showing some houses we've done in the past where we had gone ahead and finished the garage off…not to the level of the interior of a home, but not leaving it like a garage.  Because so many of the folks out here around Wrightsville Beach, NC, really utilize their ground floors as rec rooms, storage areas, beach storage and utility space.  They tend to use it as an all-purpose area, not just a garage.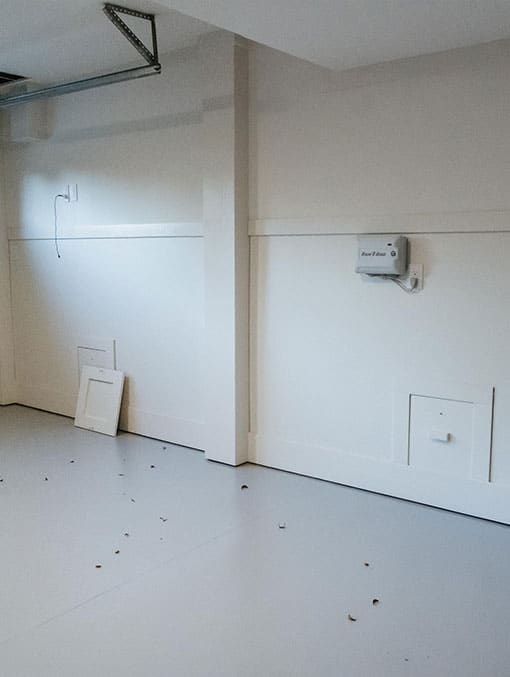 This wall system that we have here is actually set up for flooding. This is a little design idea I came up with probably six or seven years ago. We've probably done it for a dozen homeowners or so here on Wrightsville Beach and Figure 8.
But we have a system here where our baseboard and our trim board is easily; it's set up so that we simply can remove this trim board and remove this Hardie panel so that we can open up the wall. So after a flood we can open up the wall and dry it out…there's nothing in there to rot, we don't insulate the walls so there's no drywall mess, there's no mold or mildew issues.
It's easy-breezy, where 2 guys can come in and take this system, take these 4-foot panels off all these walls in about an hour, maybe an hour and a half. They've just got a few screws to take out and literally lift and pop out. They're not fastened in. They're cut in behind all this trim, but they come right out.
Because this house had such age, we added a 2-coat paint application to the floor to give it that finished look. Many homeowners love it because it makes the garage so much nicer for just utility, living, storage, getting the bikes in and out of here; this client keeps his grill in here.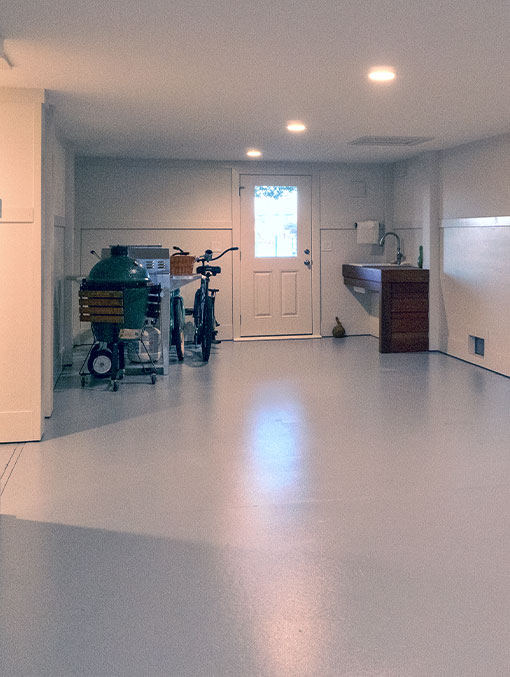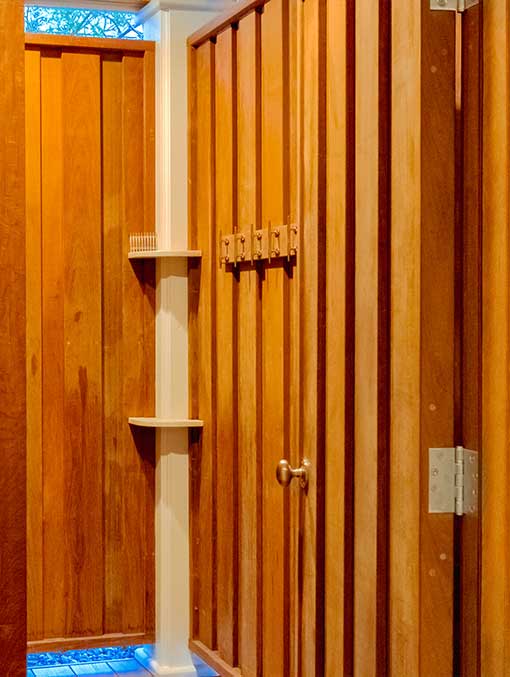 Outdoor IPE Shower
And then over here, a lot of folks at the beach have an outside shower…So we showed them a couple of these we had done on previous jobs. We had the architect incorporate it into the design and we built an IPE shower. This is under the front entry. You would never know it, but instead of utilizing this space for trash we went ahead and just took some IPE and matched it with the stairs for this outside shower. 
It has a bench for when you want to sit and change, a rack for towels and swimsuits that you need to dry out. This is all steel hardware and will never rot. It's open on the bottom and open on the top so can air out all the time.
The client had a utility sink, but he wanted a little better setup of what he had, so we took the leftover IPE we had and built this improved utility sink. He didn't want to spend a lot of money on it, so we went ahead and took what we had leftover and built this counter for him.
He can fillet fish on here. He can do whatever he wants to do, but we kept the sink essentially. We just built him something nicer to work with using the leftover materials from the shower. He didn't go super high end with it. We had that wood that he'd paid for anyhow, so he just paid for a little bit of labor to build it using the sink he already had.