At Lanphear Builders Inc, we approach every new construction home project as if we were building it for a friend.  Efficiency, budget and practicality stay top of mind throughout your project.  We're not just constructing your home…we're creating a relationship built to last a lifetime.

New Home Construction
Custom coastal homes constructed by our highly skilled in-house carpenters with dedicated project managers
New Homes & New Relationships
Lanphear Builders specializes in custom home building. Whether you have a set of home plans selected, wanting to modify a current plan, or looking for advice to locate the right architect for you, Lanphear Builders can help.
Trevor Lanphear has over 30 years of first-hand experience working with different architects, designers, and architectural engineers to make your vision a reality. Once you have a finalized design, Lanphear Builders will assign you a dedicated Project Manager as well as a specialized crew of highly skilled carpenters that will see your home built to the letter in a courteous and budget-friendly manner.
In the case that your new home construction does require sub-contracting, then rest assured we have a specialized team ready to maintain consistency of both attitude and work ethic.
Trevor has extensive experience building luxury homes in Wilmington, Wrightsville Beach, Figure 8 Island and the surrounding counties.  Coastal home building requires a custom builder that knows the area well and is willing to go the extra mile to ensure a homeowner is setup for success right from the beginning.  Lanphear Builders prides itself in the life-long relationships we have built with all of our previous clients…and we look forward to that same relationship with you.
Our New Home Construction Process
Every custom new home starts with you.  Our free consultation begins with our owner, Trevor Lanphear, speaking with you and your family to discover your needs and advise you to the best of his ability on a successful plan of action.
Your first steps in a New Home Construction Project:
Site discovery
Meeting with your Architect or matching you with one of ours
Meeting with your Interior Designers or matching you with one of ours
Setting expectations and milestones
Assigning you a dedicated Project Manager and a team of best-in-class carpenters
Call For a Quote:
910.769.3930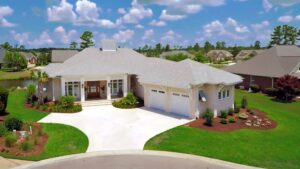 New Custom Home Build
A modern custom home built by Lanphear Builders Inc.  Custom arched beam ceilings, brick exterior, a sunroom, and an open floorplan highlight this project.
New Home Construction | Wrightsville Beach
Cedar shake siding, IPE decking, custom beach showers and new windows & doors. Interior reconfiguration to take advantage of ocean and sound views.